Contrary to popular belief, not all outdoor furniture is going to be made for the same purpose. When you are looking at celebrating or enjoying your outdoor space properly, have the right set of furniture in place for just the right event.
An Afternoon Cuppa Done Right
If you want to sit out on the patio and enjoy a gorgeous cup of coffee or tea in the morning, afternoon, or evening, this lovely powder-coated metal table is going to be a wonderful choice for your cup.  It's just at the right height for you to rest your cup on and pick up again, and it's still got room for a sweet treat and decorations.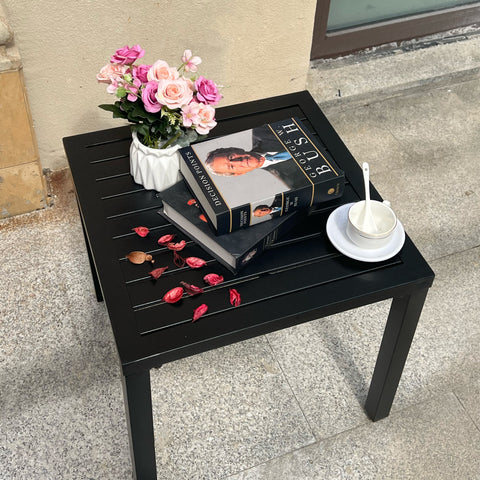 There is enough space here to have someone over, too, and give them space!  It's weather-resistant, durable, and made to last season after season.
A Novel Getaway
When you need the world to disappear for a while, and you want to do that through reading, this outdoor coffee table and plus swivel chairs are going to help you do it comfortably.
With room for refreshments on the table and plush seating with weather-resistant and plush cushioning, this will let you settle in with that fantastic read and in the ultimate comfort and style.
A Date Night to Remember
If you are enjoying a date night with a special someone, this bar height set of mesh fabric chairs and the matching high-top table is going to help you enjoy a romantic night across from each other in breathable and comfortable seating that will give you a great overall feel.
A Family Get-Together
When looking for a way to get together with your siblings or parents, this 5-piece set allows room for all 4 people to enjoy a meal together on latticed, sophisticated, and timeless chairs that are lightweight and durable enough to enjoy season after season.  
The chairs are stackable for ultimate convenience, and you can adjust this from 1-4 people as needed with minimal inconvenience.
Simple and Edgy Outdoor Dining
The next time that you want to have a crowd over for a nice meal or an afternoon party, this 7-piece outdoor dining set will help you do it effortlessly.
All pieces are powder-coated metal that is fade-resistant from UV damage, durable enough to withstand rain and wind, and still look great.  The straight-edgy work on the design of the chairs is classy yet still modern for the right appeal.
A Refuge from the Sun
Your seating is all well and good to have set, but what about protection from the sun or rain?  This beautiful oversized umbrella is going to anchor securely to your table and will crank out to cover the entire 7-piece table that you have.  
This outdoor patio umbrella will bounce off UV rays and help protect from the heat of the day as well as protect everything on the table from the rain or other weather that comes in.  Durable and well-made, it will crank open and shut easily for ultimate convenience and true usability.
Create Your Space as You See It
Sometimes it's nice to see the world out there, and sometimes, it's not.  If you want to enjoy being out on the patio with your loved ones, do it both ways with this roll shade.  You can install these easily on your gazebo, patio, or veranda,
When hunting specifically for something that you can put in place to roll up out of the way when needed, these are designed with that firmly in mind.  Perfect for creating an oasis that is going to be as open and panoramic or as closed and as intimate as you want it to be.
Your outdoor space is whatever you want it to be.  Take a moment to see just how these unique MEOOEM sets are going to factor in so that you can design a space that is built to your own specifications for whatever event that you have in mind.  It'll change the way that you look at outdoor enjoyment forever!