Our outdoor swivel chairs are the perfect addition to your outdoor space because they allow you to turn and face any direction while staying comfortable. With one of these chairs, you can chat with guests while preparing food on your grill, or watch kids play in the yard as you relax after a long day.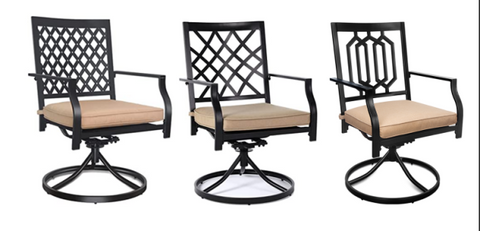 When purchasing new outdoor furniture, make sure to choose materials that can stand up to the elements — like metal frames with weatherproof fabrics, or synthetic rattan or wicker that's designed specifically for outdoor use. All of the sets below will help make the most of your outdoor space this season.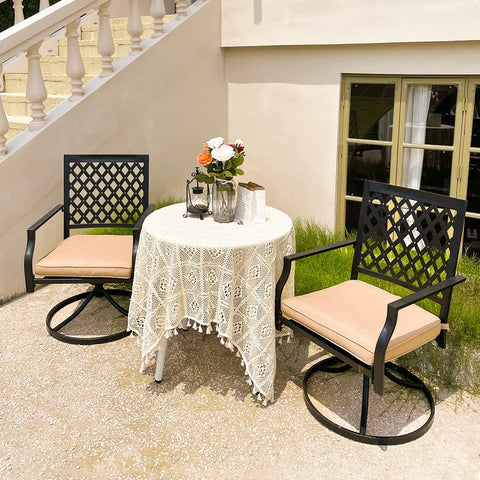 If you are looking for swivel chairs that can be used indoors or outdoors, our chairs are great. They can match any decor and the cushions are waterproof. The chairs swivel 360 degrees and the cushions are made from foam for extra comfort. They're also good for all weather conditions, so you can keep them outside rain or shine.
This set of Outdoor Swivel Chairs is a fun, comfortable way to kick back and enjoy your patio space; it's also a great way to bring more people into the fold when you have company over. The swiveling style allows for easier conversations with anyone in the room, whether you're sitting across from them or on the same sofa.
And if you love to throw parties, these chairs are a must-have. They're easy to move around so people can be grouped together or spread out as they please. Plus, they look great under string lights or lanterns.
These outdoor chairs come as a set of 2, 4 and 6, and they each come with removable cushions that are made of water-resistant fabric. The aluminum frames are rustproof and weather resistant.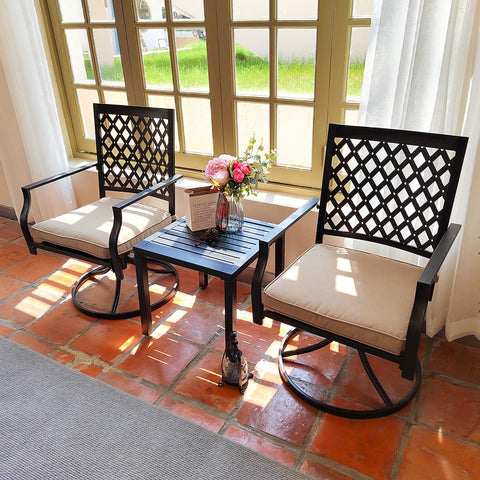 There's simply something special about sitting outdoors to enjoy a meal. Which is why we set out to create the ultimate dining experience. Meet the new members of the family: The 3-Piece Patio Bistro Set includes 2 swiveling single chairs and one side table. The chairs are made of aluminum, which makes them durable as well as corrosion-resistant.
Whether you're enjoying a meal with your family or relaxing outside with the newspaper and your morning coffee, this set is the perfect addition to any outdoor space. There's nothing like a refreshing outdoor patio set for enjoying the warm weather. But what if you want to take it to the next level? Outdoor swivel chairs are great for entertaining and having a cocktail with friends. They're even better when you can enjoy them with a 360-degree view of your backyard.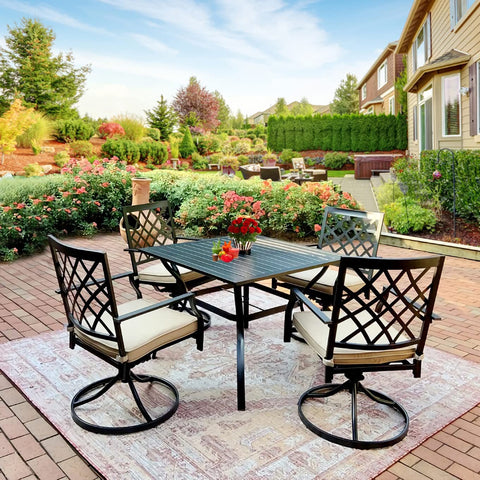 This Patio Dining Set is an excellent choice if you're looking for a stylish, sturdy dining set to bring out when the sun is shining. The four chairs come with medium-height backs and plush cushions that are comfortable and easy to maintain, while the umbrella table has a stylish design and includes pre-drilled holes for the umbrella.
The chairs are designed with a swivel mechanism that allows you to turn 360 degrees and come with cushions for added comfort. The cushion covers are easy to remove and clean, so you can keep your dining set looking bright and fresh.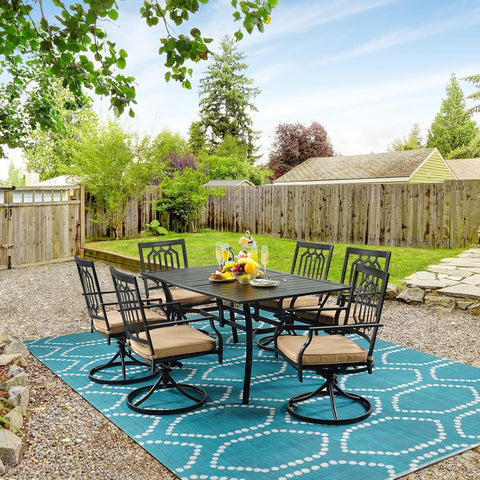 When it comes to outdoor furniture, it's hard to beat this stylish 7-piece set. It includes six swivel chairs with cushions and one large rectangular table, which makes it perfect for entertaining friends and family on your patio or deck. The set is made from durable metal with an anti-rust powder coating so it's built to last through many seasons of use outdoors. It also requires little maintenance since all you have to do is wipe down the set after each use. The chairs have a 250-pound weight limit, making them suitable for most adults, but they're also lightweight enough to move easily when you need to rearrange the furniture.
The chairs have a sleek and modern design, and the table comes with a tempered glass top that gives it a stylish and elegant appearance, enhancing the look of your outdoor space. Assembly is easy and tools are included.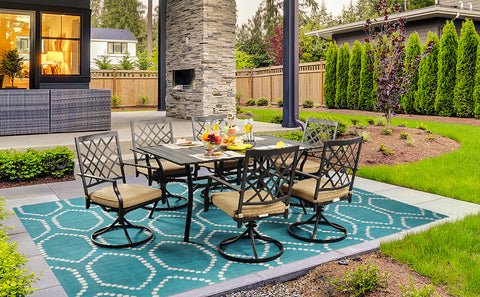 If there's one thing that makes a patio, deck or backyard entertaining space really stand out, it's the furniture. That's why we're focusing on the best outdoor swivel chairs. Swivel chairs are great for relaxing outside on your own or chatting with others and come in so many styles and colors — there's something to suit every taste.
You can use these chairs to create a cozy conversation nook with a small table, or combine them with other pieces like a sofa and coffee table to create an outdoor living room. Some options have cushions, but you can also add your own pillows and throw blankets for comfort and style.