Our MEOOEM outdoor patio swivel chair moves smoothly, silently and comfortable through a full 360 degrees meaning you need not miss a single piece of action or conversation in your garden.You can also enjoy a 15 degree rocking angle back and forth.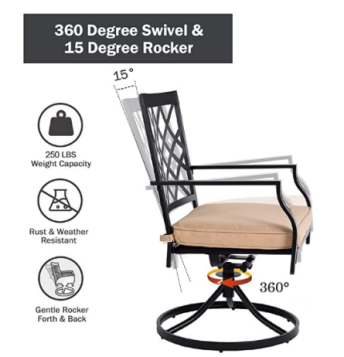 The great thing about these patio swivel chairs is the level of comfort you get without sacrificing mobility; the fabric of high-density sponge is specifically designed for this purpose. You simply cannot help but feel relaxed while sitting in these outdoor swivel rocker chairs. Also, it can be easy to wash with its removable outer lining.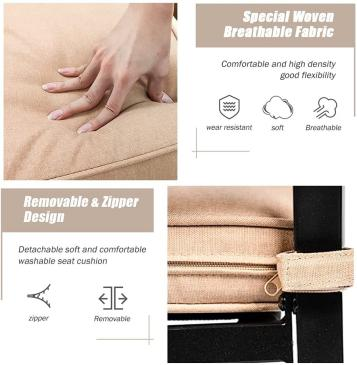 The curved armrests, although exquisite, are practically designed for a high degree of comfort with the triangular bracket design offering stability. The chairs are rated to take 250lbs of weight so you can feel safe and comfortable when using them; you'll melt into the ergonomically designed back rest.
Size wise, these chairs are compact enough not to unnecessarily encroach on your outdoor space, but large enough to remain comfortable and relaxing for everyone. The seat cushions are firm but forgiving and are 2.7" in height. The chair itself is W22" x D22" x H35.4".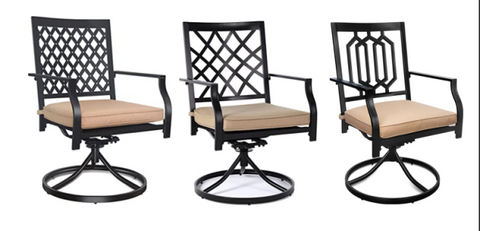 The sumptuous design of these chairs allows them to be the centrepiece of any outdoor space whether it's a patio, decking lawn or balcony. The classical back design is timeless in nature and will enhance the look of any outdoor social gathering be it a family affair or an afternoon with friends.
These patio swivel chairs are perfect for lazy afternoons in the garden soaking up the sun, enjoying some quiet time and a good book or even just enjoying the scenery and taking in the world around you. They are equally at home if you are entertaining. They suit a variety of social situations and gatherings. They are perfect for an intimate chat with friends or a relaxing catch up with your family.
Maybe you have something larger or livelier in mind? Rest assured that these chairs will enhance any garden party and are the perfect addition to your garden to accommodate your friends, family and guests. Whether it's a barbeque on a sunny Sunday afternoon, or a party into the late evening with music, drinks and dancing, these chairs can offer your guests comfort, respite and a place to fully enjoy the culinary and conversational delights that you have to offer.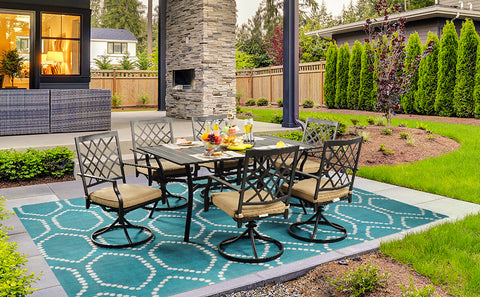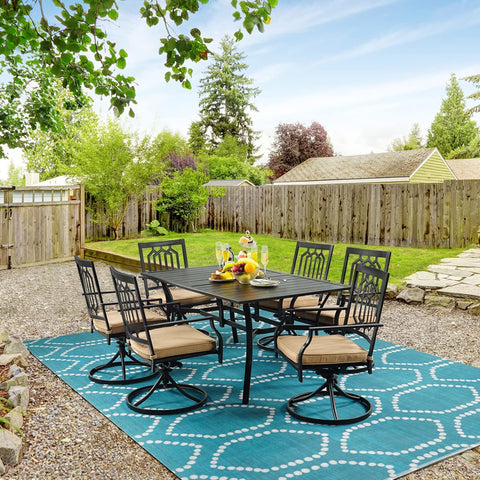 Looking great is one thing, but are these chairs built to last? They absolutely are; they are built with metal equipped with an anti-rust coating and even have well weather resistance to prevent sun damage. You can rest assured that these chairs will last for many, many years.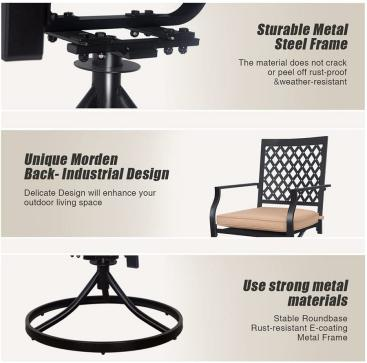 There are sets of two, four and six chairs available so depending on your needs (or the size of your parties!) we can cater for a wide range of numbers.
Ergonomic, stylish, durable and great value; these chairs are the perfect addition to any outdoor space at any time of year and for any occasion. We're sure that you'll be absolutely delighted with these outdoor swivel rocker chairs.