It's time to open the doors and bring the great outdoors into your homes. The pandemic taught us the importance of having an outdoor space to escape and embrace the sounds of nature. With spring and summer right around the corner, it's the perfect time to invest in an outdoor storage coffee table to transform your patio. Read on to find out more about our best-selling outdoor storage coffee table that works for every garden space.
A Bistro Side Table with Umbrella Hole
Alfresco dining is one of the best ways to give your outdoor space a new purpose – whether you're entertaining your friends or enjoying your morning coffee and watching the sunrise. Our patio side table adds a touch of European style to your outdoor space, transporting you to a French bistro.
This metal outdoor side table features an umbrella hole with a 4-side metal mesh face to keep it held securely in place. You can add a matching umbrella to elevate the look of your bistro table to escape the sun and stay cool during the summer.
This side table with umbrella hole works for every season with its black powder coating and rust-resistant material that will withstand the elements. It is fit for all weather conditions, giving you a worry-free bistro table to enjoy throughout the year.
Our bistro table is the perfect excuse to have your dinner outdoors or take your remote working outside to the sun. It's a compact size that is big enough to store your snacks or work essentials while fitting in outdoor spaces of any size.
A Metal Outdoor Side Table for Every Garden
Your outdoor living space is always evolving – growing with you and your home over time. Our bistro side table works for every garden, whether your garden is a place full of plants and flowers or home to your pool.  It's the perfect size to nestle in the corner of a patio or sit between two sun loungers to store your snacks and poolside reading. Are you ready to spend your days enjoying your lunch outdoors or grabbing a snack by the pool?
The sleek mesh side and black powder coating make this outdoor side table one of the most versatile in our line-up. It's a compact size that works in your porch, balcony, courtyard, or garden. You can complete your outdoor space with matching metal patio chairs that are stackable and the perfect size for any backyard or balcony.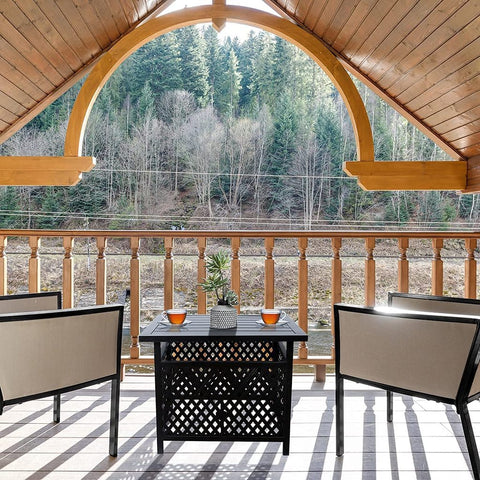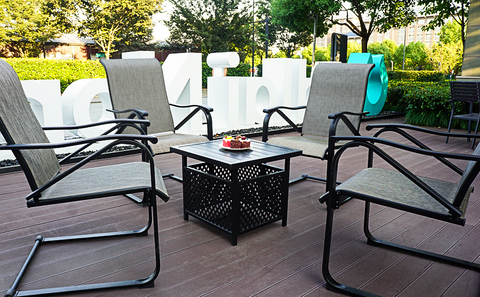 Our Parisian-inspired metal outdoor side table is an affordable investment into your home and one that you'll enjoy for years to come. Your MEOOEM bistro table comes with a 1-year warranty and lifetime service for extra peace of mind.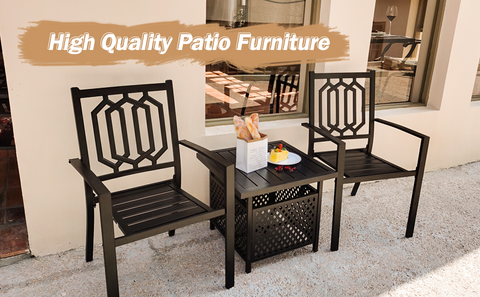 Now is the perfect time to invest in an outdoor side table to prepare your home or restaurant for the warmer months. You can shop our patio side table here.